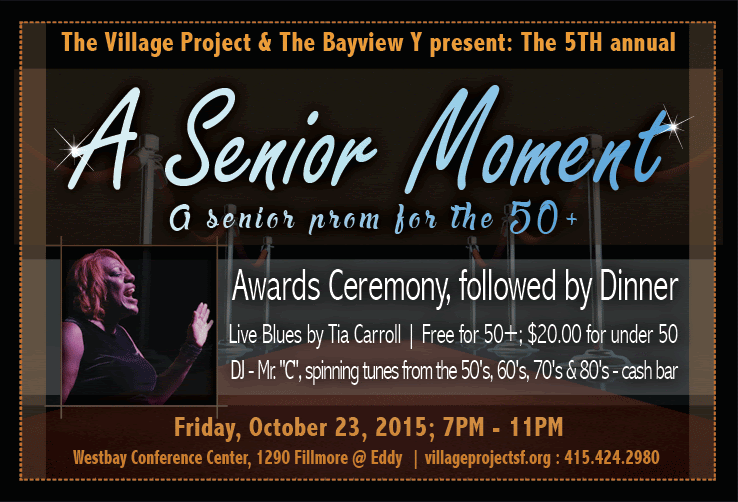 The Village Project and the Bayview Y present the 5th annual "A Senior Moment, A Senior Prom for the 50+", on Friday, October 23, at Westbay Conference Center. The awards dinner dance will again recognize outstanding seniors for their contributions and dedication to serving their communities.  Cathy Davis, Executive Director of the Bayview Hunters Point Multipurpose Senior Services will serve as Mistress of Ceremonies for the evening's gala.
RSVP here for Senior Moment
MEET THIS YEAR'S HONOREES!
Edna James
President of the Commission on Aging and Adult Servicessince 2007.  She also served on the Advisory Board for the Commission from 2000 to 2007. She is a staunch advocate for senior and disabled services. She has been a member of Delta Sigma Theta Sorority, Inc. for over 50 years and joined the San Francisco Alumnae Chapter in 1961.
Roberta McLaughlin
Volunteer with The Village Project, tutoring and mentoring the youth in the after school program. In 1966, she served as chairperson  with Catholic Women to raise funds for the Bayview- Hunter's Point Daycare Center. She was a boycott organizer in the United Farm Workers movement with Cesar Chavez in San Francisco, New Orleans, Atlanta and Hartford for 20 years. She was a volunteered with the WHO Smallpox Eradication Campaign in Bangladesh.
Mattie Scott
Executive Direct & Founder of Healing 4 Our Families & Our Nation.  She co-founded The Healing Circle in 2004.  She continues to help support victims of violence and homicides. Since 2010 she has pursued her mission of serving  families, communities, incarcerated youth and adults as Executive Director of Healing 4 Our Families and Our Nation.
Antoinette Commer
Administrator at Fellowship Manor Senior Housing. She has worked to enhance the lives of seniors in the Western Addition for 20 years. She is a life time member of the National Council of Negro Women, leading, developing and advocating for women of African descent as they support their families and communities.  She continues to advocate for affordable housing for seniors and low income residents of San Francisco.
Dorothy Peterson
President of the Shoreview Residence Association and Bayview Y Volunteer.  She advocated for tenants' rights  in 2005,  helping to organize construction workers, enabling them to work on AIMCO's $100 million rehabilitation project. She continues to advocate for tenants' rights in the Bayview/Hunter point community.
.
Shirley Turner
Volunteer for the Western Addition Senior Center. She has always advocated for higher learning and support of society with her own children, along with the community's youth. She has volunteered her time with her two younger daughters at Laguna Honda Hospital and the Women's Mission at her Church. She has volunteered at The Western Addition Senior Center since 1986.
Miyako's Ice Cream Parlor 
Mr. Thomas Bennett is owner of Miyako's Ice Parlor. He has served the Fillmore community the best ice cream for 25 years.  He has set a steadfast example of entrepreneurship for the youth and community to follow. He has exemplified kindness, leadership and generosity to the Fillmore community.
San Francisco Alumnae Chapter
Delta Sigma Theta Sorority, Inc.
The Community Service Award goes to the San Francisco Alumnae Chapter of Delta Sigma Theta Sorority, Inc.  The chapter developed a Financial Fortitude Program for the senior citizens of San Francisco, both in the Western Addition and the Bayview Hunters Point communities. Their Social Justice Committee continues to diligently work to improve the lives of seniors through education about city services, the rights and privileges on healthcare, social security services, personal finances, affordable housing, mortgage protection and estate planning.
Community Partners:
"A Senior Moment" is sponsored by The Village Project in collaboration with the Bayview Y. This year's community partners are The Fillmore Center Plaza, 1481 Post Street Project, Cathedral Hill Plaza, Bi-Rite Markets, Booker T Washington Community Center, Whole Foods, Teri's Creation & Boutique, Western Addition Family Resource Center, St. Cyprian's Episcopal Church, Western Addition Senior Center, Bayview/Hunters Point Multipurpose Senior Services, MoMagic, Nia Soul Catering, San Francisco Black Film Festival, Renaissance Parents of Success, Cheap Pete's Frame Factory Outlet, Charlie's Pharmacy, and The Village Project Advisory Board. This community event is funded in part by a grant from the Dept. of Public Health.